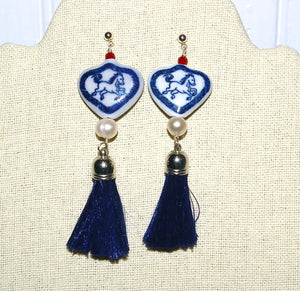 Beijing Earrings
Regular price
Sale price
$39.00
---
{BeBuddhaBaseCollection}
INSPIRATION: Asian Cultures.
ABOUT THE STONES: Part of my fascination with jewelry making is the stones. What do they mean? Where did they come from? Below find the meaning of the stones of this particular piece. Please keep in mind that gemstones and semi-precious gemstones have many different meanings to many different cultures- these are just what I've found in my research! :)
***FRESHWATER PEARLS are usually pale white or cream-colored, though darker blue, gray, and even black variations exist. Remember, Pearl is the result of layer upon layer of substance produced to combat irritation. Freshwater pearls enable one to accept love and see the good parts of oneself so you can love yourself and others more. Pearls are also a symbol of purity.
***CHINESE PORCELAIN China is richly endowed with the raw materials needed for making ceramics. The first types of ceramics were made during the Paleolithic era. Porcelain is so identified with China that it is still called "china" in everyday English usage. Following in the tradition of earlier qingbai porcelains, blue and white wares are glazed using a transparent porcelain glaze. The blue decoration is painted onto the body of the porcelain before glazing, using very finely ground cobalt oxide mixed with water. After the decoration has been applied the pieces are glazed and fired. It is believed that underglaze blue and white porcelain was first made in the Tang Dynasty.
***CHINESE ZODIAC- HORSE Horse people are active and energetic. They got plenty of sex-appeal and know how to dress. Horses love to be in the crowd, maybe that is why they can usually be seen in such occasions like concerts, theaters, meetings, sporting occasions, and of course, parties. The horse is very quick-witted and is right in there with you before you have had the chance to finish what you are saying: he's on to the thought in your mind even before you've expressed it. In general, the Horse is gifted. But in truth they are really more cunning than intelligent - and they know that. That is probably why, most of the horse people lack confidence. Chinese believe that because horses are born to race or travel, all Horse people invariably leave home young. The Horse despises being pressured to act for the good of the group or made to feel guilty. No matter how integrated they seem to be, a Horse's inner self remains powerfully rebellious. Although they have boundless energy and ambition, Horses have a hard time belonging. The Horse is hot-blooded, hot-headed and impatient. Horse people are a bit of an egoist, well, selfish sometimes, that it is rare for them to interest themselves in any problems except their own. And though this egoist works only for themselves and for their own success, their work nevertheless benefits everybody. The Horse is a worker, adepts at handling money and a good financier. But unfortunately, they are also famous for suddenly losing interest on something. In their relationship with the opposite sex, the Horse is weak. They will give up everything for love.
Being born a Horse, there are many contradictions in their character. Horses are proud yet sweet-natured, arrogant yet oddly modest in their approach to love, envious but tolerant, conceited yet humble. They want to belong, yet they are burdened by their need for independence. They need love and crave intimacy yet often feel cornered, pressured. But the truth is, the Horse is an individual, who depends only on their own wits and labour to get what they want.
WHERE ARE THE STONES FROM? West Lafayette, Chicago, Thailand
HANDMADE IN CHICAGO WITH LOVE ♥
FOLLOW OUR JOURNEY & CHECK OUT MORE PHOTOS @bebuddhajewelry on Facebook, Instagram, Twitter, Tumblr, and Pinterest!